I have never heard the N-word said so much previously in my life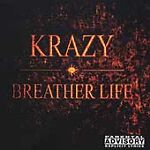 Artist: Krazy

Album: Breather Life

Year: 2001

Why I picked it up: The cover looked very simple, but intense, with the red and black mixing in an interesting way, I was hoping it was metal. And, the front cover had a Parental Advisory Explicit Lyrics sticker on it, so I guessed that it would be fun.
Goddamn was I wrong. Krazy is rap. Gangsta rap. Bad gangsta rap. Krazy's lyrics are not subtle in the least, his rhymes (when he chooses to rhyme) are not especially clever, and his part in most of the songs sound exactly the same. The only reason the tracks sound any different from each other is that some feature a different rapper or R&B artist on it to mix it up. The best part of any song is not Krazy, but the other artists featured on it, which is especially sad. The electronic beats are nice, but the monotonic typical rap is bland. If this were a collection of songs by the featured artists--having cut out Krazy's rapping--it might be deserving of a three, but since it's Krazy's album and he raps on each track... I guess it's apt to follow Igor and the Whale's first five with our first zero.
If you think this review is underly-critical, please remember, Krazy might kill me
Standout track: Get Bucked

MySpace: Krazy

How much I would've paid: $0

Rating: 0/5